Post by apathy45 on Dec 16, 2012 16:19:06 GMT
Basic Information
Name: Soma D. Thomas
Nickname/Alias:
Age: 21
Gender: Male
Race: Human
Height: 6'3
Weight: 205lbs
Affiliation:
Rank: B
Personal Information
Vessel: [What ship you are on not what ship you own]
Hometown: Karate Island
Physical Description: Soma stands at about 6'3 and weighs in at 205lbs. He has short white hair that is just long enough to fall over his face, a dark complexion, that he took from his father, while possessing the sharp facial features of his mother. He has the recessive gene for amber eyes(don't think this is true)
Clothing: Soma's common outfit is a Blue strapped suit coat, over a yellow shirt, Black cargo pants and blue shoes. He has other outfits that he'll wear from time to time, but this is what he wears most commonly.
Picture:
Personality:
Soma cannot be readily described after a first glance, he is wary of people he does not know and can be spotted by the casual observer silently observing events and the people involved. Below that he is perfectly of being talkative, he can even be described as charming, this is another farce however that is often employed if a situation arises where he must be talkative and polite to those he has never met.
At his Core though, Soma is a completely different person, he is cynical, blunt, and slightly sarcastic to those he considers friends. While he will often point out the negative in a situation, he doesn't believe that any situation is beyond is salvaging. He is extremely protective of his friends, his family and himself. Soma's one vice was passed on to him by his grandfather, an extreme love for Attractive members of the Opposite sex, although it does not render him useless, it is enough to divert his attention for a while, meaning that for a womanizer he hides it well. He is extremely protective of his friends.
His whole aura changes once he engages in a fight with a strong opponent. His opponent becomes the single focus in his mind and few things can rattle him in a fight, true to a martial artists form, he is inventive and creative in combat, coupled with his rather unique Devil Fruit he is a dangerous opponent for all potential foes.
Likes:
~Quiet
~Books
~Competent Opponents
~Beautiful Women
~Cooking
Dislikes:
~Shichibukai
~Marines
~The World Government
~Tenryubito
History
Early Life
Soma was born in the South Blue on Karate Island. Karate Island is known being a place where people can come and train in the martial arts, it is also the home of many martial arts masters that teach their styles. Despite being a place of martial arts, violence for the sake being violent is strictly prohibited, and there are few offenders for the simple fact none want to invoke the wrath of the masters of the Island. The also has a great deal of master skilled in the use of Haki, with some even possessing skill in the Third and rare form of Haki. His mother; Sheila, was the Daughter of a renowned Martial Artists master living on Karate Island, while his father; Toma, was an Ex pirate hiding out from the World Government after acquiring a High Bounty. Not long after he was born his Family moved off of the island and began a life on the seas. Early on Soma's life had allowed him to witness many of the World's Grandeurs and Splendors, however this was short-lived as his father's pursuers soon caught up with him in the form of the World Government's Shichibukai. He was forced to bare witness to his mother and father's Valiant death, he was left as a 6 year old orphan in what he was discovering could go from miraculous and beautiful, to cold and cruel. As he was in transition to becoming a Tenryubito slave, he was miraculously rescued, his grandfather had caught wind of his misfortune and enlisted the aid of one of his old students to rescue him.
Soma sent the rest of his life, growing up living with his Grandfather among the martial artist masters back on Karate Island, as per what was to be expected growing up in that environment, Soma was put through the ringer. He was often subjected extreme forms of physical training. As the only true apprentice of the Island masters, It was his responsibility to Set-up and disassemble the tools used for Training the Outsiders, many of which ranged from being twice his size to nearly four times that. His Grandfather is , but behind this was powerful man and one of the most powerful Martial artists the world had seen, who had invented a Style of his own based off of the many martial arts in the World. Despite outward imposing aura and piercing glare, and his apparent perverseness, he took great care in instructing and instilling his knowledge, values and ethics into his Grandson. He did not want hatred and anger to engulf his Grandson, as he had seen personally where it could lead a martial artist and while they seem like polar opposites Soma can earnestly say that all he is, is because of his Grandfather's efforts. Among the many things his grandfather instilled in him, he has incredible survival skills and is a more than proficient cook.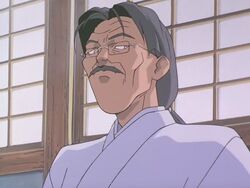 Mastering Resshūken
Resshūken; The Martial Arts Style that his Grandfather Degan established was based on all of the Known Martial arts that Degan himself had encountered in his lifetime. It was a fluid style incorporates many of the strengths of the other styles without the weaknesses. It focuses on quick and powerful kicks and elegant moves that hide exceptionally powerful kicks, at first sight it would appear to mimic the style reminiscent of the Chef's own fighting style, however it is not strictly formed around the feet as the hands are used to perform parries and powerful counter-strikes as well as powerful single strikes and set-ups for more techniques. In order for Soma understand the principles of the Resshūken, he would have to travel the world and understand the principles, weaknesses and strengths of other styles to prevent their weaknesses from marking the Resshūken (which is said to be without weaknesses). And so Soma began a pilgrimage across the Island in order to learn and understand the Styles of their Island completely. Because he had trained with many of the other masters, this part of his task did not take nearly as long as it would've for someone else, the next step would prove difficult as the world was bigger than their island and he would have to traverse the world.
Obtaining His Devil Fruit
Nearly Twelve years would pass before he was back on his way home. He had written his grandfather that he was on his way home, before he set out on the Small Sea Stone lined raft along through the Calm Belt directly on top of the Sea Kings. Moving out of the Calm Belt, he came into normal waters just as a storm front moved in forcing him to settle in on an Island until it passed. During his time on the island, he got hungry and ventured into the island's environment looking for food. He easily beat it's native predators into submission before coming across a strange pear-shaped fruit, however after ingesting it he immediately knew something was wrong, it's taste was vile. As he ventured back onto the open sea, he got swept up into another storm, he tried to navigate as he came closer and closer to the island, a wave knocked him into the water where finally realized something horrible, he couldn't swim anymore. This was not due to a lack of trying, rather his body wouldn't respond as he sank deeper and deeper into the ocean. Just as he lost hope, a hand reached out and grabbed him, the islanders had spotted his raft on the horizon, and once the storm hit they sent someone out to meet and escort him back. His grandfather had suspicions about Soma's condition, these concerns were validated once he regaled the story of the Island, it's inhabitants and the terrible fruit. It was Degan's understanding that Soma had ingested a Devil Fruit, all that was left was to determine what fruit and how Soma could benefit from it.
Completing His Training
Soma spent the next few years no only completing his Mantra, but mastering the Resshuken while learning his Devil Fruit's abilities. As it stands, before he left Karate Island he was extremely proficient in the Observation Haki or Kenbunshoku Haki and possessed some skill in the armor or Busoshoku Haki, he had gained a moderate amount of control over his Devil Fruit, and he'd completed his Resshuken training. His grandfather had forced him to leave to figure out what his destiny would hold. He has discovered that he still has a Bounty of 300,000 for a combination of his escape from the Tenryubito Slave ship, the liberation of the other slaves and the assault of World Government Personnel
Extra Information
Extra Clothing:
Soma's formal wear for fancy occasions is a long (longer than the picture) black double-breasted suit coat that has two tails, a blue vest with silver buttons over a white shirt and , and black pants.
Extra Weapons:
A Pair of Gauntlets and Greaves that Soma uses to raise his destructive abilities from close range, because of the light weight metal use to make them, they are the perfect weapons for a martial artists when face against an armed opponent.
Relationships: Soma has no previous relationship with others, although Bounty Hunters will probably know of his Bounty and others will recognize his Bracelet as a mark of bondage to the tenryubito.
Rp Sample:
The Seas were calm as the as gentle wind swept across the waters. in far off in sight, a large boat pulled into port in Lougetown. The Vessel was not a pirate ship but rather as sort of freighter, it was used to bring supplies from one place to place. The ship was captained by a fairly large muscled man, with a flamboyant mustache and deep blue eyes. His red captains jacket bellowed in the wind, revealing black pants and a white frilled shirt.
Looking toward his first mate, was loud enough to grab his entire crew's attention
It seems we'll be pulling into port, Hurry and wake our freeloading passenger so we can be rid of him, "
[/i][/color] his voice bellowed his disdain for his guest. The man nodded furiously before heading into the bowels of the ship, and there among there cargo was a man swinging carelessly in a makeshift hammock with one leg out, snoring loudly a Blue hood hung over his face hiding his features. The man went to nudge him, but Soma's reflexes instinctively kicked in, sending a kick that sent him barreling towards the adjacent supply crates. Awaking because of the commotion he inadvertently created, he reached into his hood and scratched his head
" Is there a problem sailor, or should I be alarmed at you invading my privacy, "
[/i][/color] He said drowsily, stifling a yawn. The Man, flustered at being manhandled by a sleeping opponent, quickly threw the various item ranging undergarments to medical supplies from himself before rising from the ground in a huff.
Capt'n Told me to inform you that we were heading ashore, "
[/i] By this time Soma was hunched over gathering his things paying little attention to the man
....